Have You Recently Received a Notice in the Mail about the Breath Test Used in Your OUI Case?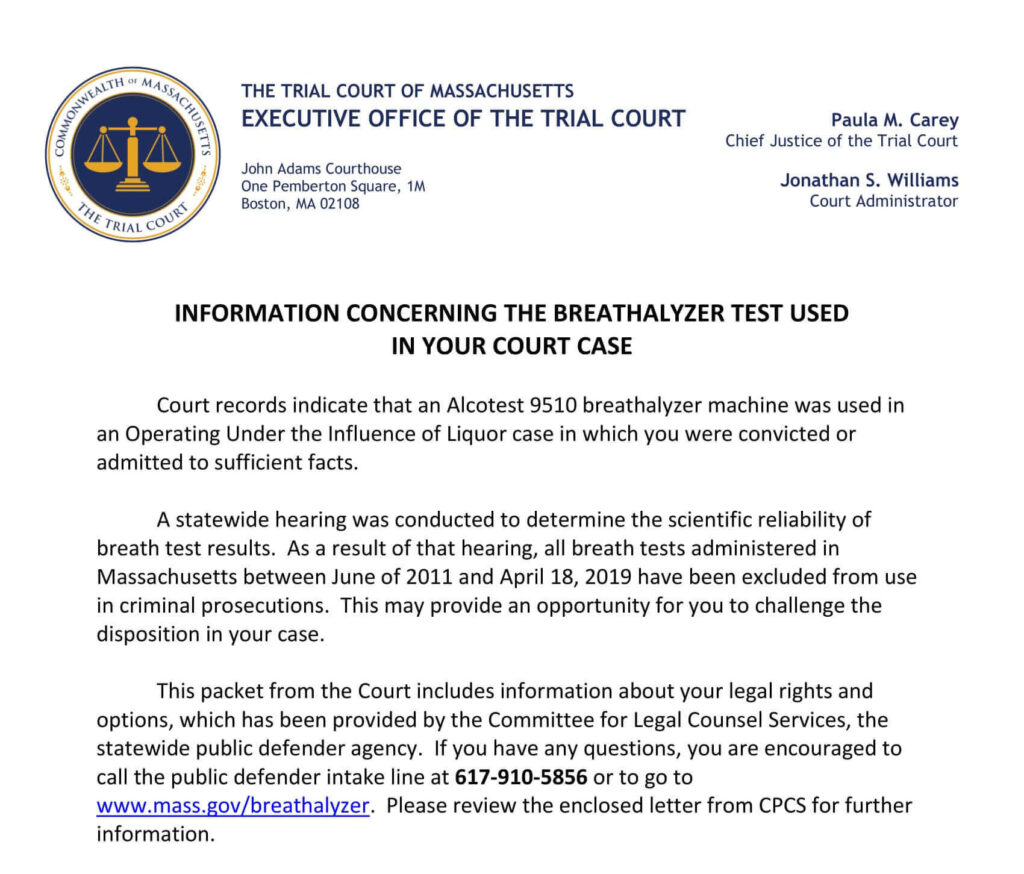 Listen to Atty Bernard when he gives the advice. His staff was great. Thank you, Joe, and keep up the good work.
On February 1, 2021, the Court ordered 27,000 letters to be sent to those impacted by unreliable breathalyzers that were calibrated between June of 2011 and April 17, 2019. Defendants who took a plea or were found guilty after trial because of evidence derived from the Draeger 9510 breathalyzer may be eligible to have their conviction vacated.
The removal of an OUI conviction could have significant positive impacts related to a criminal record, driver's license, employment opportunities, housing eligibility, immigration consequences, and more.
Attorney Bernard is lead defense counsel in the statewide litigation Commonwealth v. Ananias, which challenged the reliability of breath test results. The case shed light on significant shortcomings and the intentional malfeasance at the Office of Alcohol Testing (OAT). The defense uncovered how OAT withheld court-ordered exculpatory evidence of breathalyzers failing calibrations from defendants across the state. What these 27,000 letters represent is the potential for justice for citizens impacted by OAT's serious misconduct and the resulting omissions made in the prosecution of their criminal case.
Free Consultation:

We serve clients from Berkshire to Boston. There is no obligation for the conversation.
Recently, Attorney Bernard has been mentioned in many local and national news articles, including US News, where he is quoted as saying the notices were "a huge development" for the thousands of people whose lives "were turned upside down."
Our firm has been leading the charge across Massachusetts to help defendants vacate their conviction based upon unreliable breath tests.